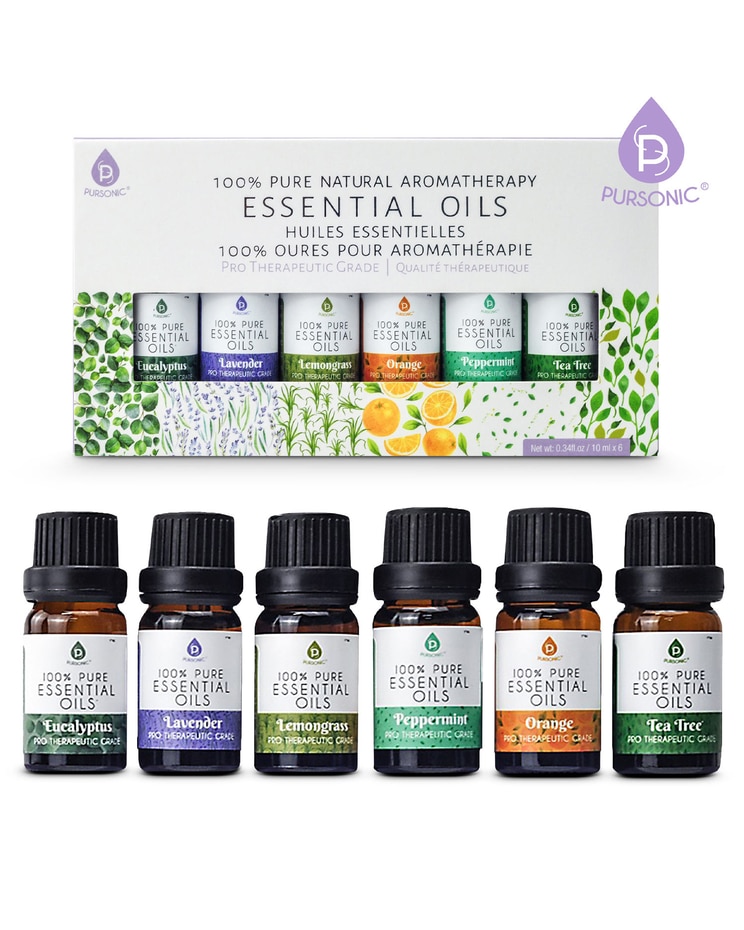 Pure 100% Essential Aroma Oils-6 Pack
No discounts can be applied to this product.
Pursonic Pure 100% Essential Aroma Oils, 6 pk.
PRO THERAPEUTIC GRADE Essential oils may well be the ultimate gift from nature. Made from the aromatic essences of plants, they have a remarkable ability to affect a person's well-being and improve the environment around them. Explore the many essential oils offered by Pursonic that can help you achieve physical, emotional, mental and spiritual well-being. It will help you stimulate your senses and enable you to sink into a relaxed world of serenity, healing, and self-balance. Essential oils can be used with compatible Aroma Diffusers or many Humidifiers. By adding a few drops of oil combined with water the diffusers and humidifiers will release a scented vapor into the atmosphere. Which will give you a spa-like feeling in any room of your house or one. Imported. A06 Collection includes:
• Eucalyptus
• Lavender
• Lemon grass
• Tea Tree
• Peppermint
• Orange
Pursonic Pure 100% Essential Aroma Oils, 6 pk.
PRO THERAPEUTIC GRADE Essential oils may well be the ultimate gift from nature. Made from the aromatic essences of plants, they have a remarkable ability to affect a person's well-being and improve the environment around them. Explore the many essential oils offered by Pursonic that can help you achieve physical, emotional, mental and spiritual well-being. It will help you stimulate your senses and enable you to sink into a relaxed world of serenity, healing, and self-balance. Essential oils can be used with compatible Aroma Diffusers or many Humidifiers. By adding a few drops of oil combined with water the diffusers and humidifiers will release a scented vapor into the atmosphere. Which will give you a spa-like feeling in any room of your house or one. Imported. A06 Collection includes:
• Eucalyptus
• Lavender
• Lemon grass
• Tea Tree
• Peppermint
• Orange